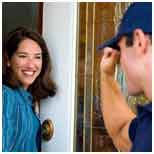 Rice's Locksmith Service has been open for business since December of 1995. The owner of the company, Darren, started working with locks in 1992 where he quickly learned that this was something that came very natural to him and that he really enjoyed working with. We offer competitive pricing and friendly service on a wide variety of locksmith services.
Rice's Locksmith Service is fully insured and proud to respond in a timely manner to our clients. We specialize in re-keying of residential homes, yet we enjoy taking on tasks all the way to automotive transponder keys. Whether your specific job requires residential, commercial, automotive, or safes we are your one stop for all your locksmith needs. We also offer a few services outside of most locksmiths. With your home being very important to you to feel safe, we offer advanced security cameras, electronic locks, and closed circuit televisions. Closed circuit television systems are installed to discourage and record criminal activity and keep unwanted intruders out of places of business.
Rice's Locksmith Service offers a 10% discount to all senior citizens who mention our ad. We strive to keep our prices reasonable and competitive. For a quality locksmith service call today for our fast, friendly, and reliable services.